We're All Like This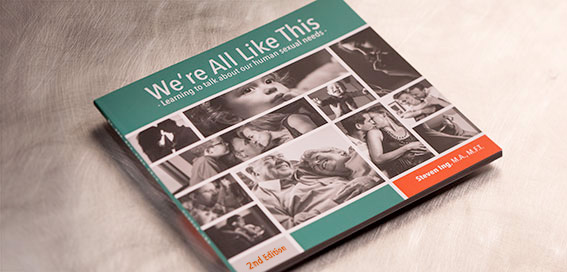 Why the silence? We're all like this. We all think about sexuality. We all wonder. We hope. And yet we're still strangely silent on the topic. The greatest creative force in human life has become one of our biggest taboos, despite the fact that culture is immersed in sexual images.
Marriage and family therapist Steven Ing knows all about the silence that imprisons sexuality. He has witnessed the dysfunction that comes from not being able to talk about our sexuality in a rational, sensitive and intelligent way. "We're All Like This" aims to start a healthy conversation by taking readers through all stages of a person's life, from infancy through the twilight years; and it illuminates the human sexual needs we all share through each stage. 
Suitable for all ages, with beautiful photography corresponding to each of the 24 stages, "We're All Like This" will start the discussion and transform the dialogue from uncomfortable and uninformed to self-assured and thoughtful.  In contrast to the "sex ed" model of anatomy, physiology and how to avoid disease, "We're All Like This" makes thinking and talking about human sexuality truly human again.